Remedial English Accelerated
Program (REAP)
The need for English education to improve employability and reduce the digital divide in vernacular-medium English schools are widely understood. The constraints imposed on the primary schools in the government school system due to the severe shortage and capacity shortfall in government school teachers are less understood. The huge learning gaps and the wide variation in the English abilities of students in high schools make it almost impossible even for good English teachers to teach the curriculum effectively. The REAP enables students who need extra help to reach their grade-level competency very quickly, thus equipping students to approach their board exams with better English skills and confidence in themselves.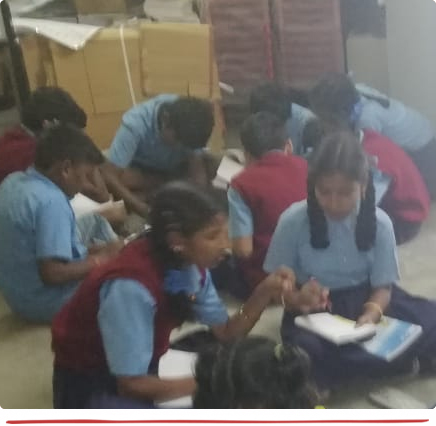 The customized curriculum of REAP addresses the specific needs of government school children. The integrated skills approach and interactive lesson plans in the program build confidence by improving reading, comprehension, conversation, writing skills, as well as other skills required for independent learning in as short a time as possible.
The REAP is taught by government school teachers. The program is customized for these teachers with easy to follow, innovative teaching methods that enhance teacher capacity and confidence. The modular structure enables teacher training to be completed in just about 10 hours. We provide scripted bilingual lesson plans and a complete package of teaching-learning materials including music players, sound tracks, student books, and tests, as well as consistent support and monitoring throughout the program.

Impact Measurement
ASER test levels prior to the start of the program and at the end of the program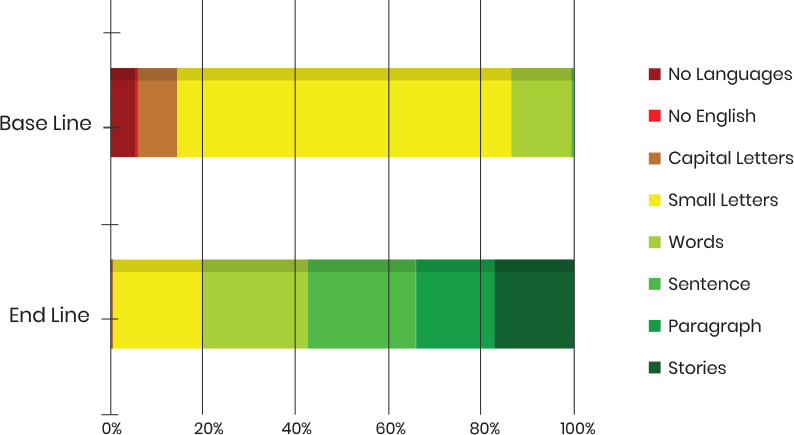 Before the start of the program, 72% of the children were at a small letter level.
With only half the program completed on average, 80% could read words,
57% could read sentences, 34% could read paragraphs, and 17% could read stories.


Beneficiaries
The REAP-TEP programs benefit about 200 children and build English capacity in 4 teachers in every school that they are implemented in


Teaching and Learning Material (TLM)
Designed to support learning at the quickest pace, while keeping in mind that the children have no external support
Teacher instruction books detailing the usage of time and material, audio tracks for songs and concepts ensure capacity building and effective use of the teacher's time
Colorful textbooks, exciting workbooks, conversation modules make the learning process enjoyable for the children
All the materials are integrated with carefully thought-through, proprietary teaching methodologies to create a program package that ensures maximum impact


Program Duration
70 1-hour sessions taught by government school teachers


Evaluation
ASER tests are conducted at the start of the REAP and again on completion of the program to measure improvement in reading and comprehension abilities.
Sponsors of the program can view the progress of all the classes that they support through the SUFI proprietary app


Current news for REAP-TEP
MoU signed with the Department of Education, Government of Karnataka where the REAP-TEP programs will be implemented in all 22,000 Karnataka upper-primary government schools over the next 3 years, benefitting 50 lakh children and building capacity in 50,000 teachers
Pilot completed in 10 rural and semi-urban schools successfully
First launch of 100 schools in October, 2019